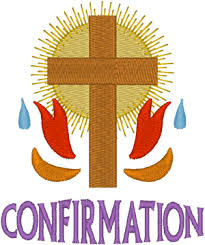 Who:      Students typically receive Confirmation at the end of the 8th grade.  (Unless otherwise determined by the Pastor)
Requirements for entering the grade eight Confirmation Class include regular Mass attendance and completion of grades six and seven in a Catholic School or CCD program.
WHAT:   Confirmation Classes consist of regular religion classes on Sunday mornings, special retreats, a required number of service or volunteer hours and, of course, regular attendance at Mass.
How:     Candidates receive the sacrament of Confirmation following the completion of the required work and class hours at a special Mass.
WHEN:   Date is scheduled by the Bishop. Usually in the Spring of grade eight.